Moms, we all have at least one: the "momiform."It's our go-to look that we throw on in a moment's notice and wear pretty much every day. Sure, we may switch up the top or the bottoms (maybe) but the overall aesthetic is generally the same for the day-to-day. I typically have two momiforms – a super casual, "you're lucky I even got dressed today" look and a more put together "I might see people I know today" look. Regardless of which uniform I choose for the day, I always try to add some accessories to help me feel more put together. I love that rose gold jewelry is on trend right now because there's something so feminine and pretty about it. Even the smallest touch makes me feel better about myself. Today I teamed up with JTV to share my two fall momiforms and how I add a touch of rose gold glam to them.

Kourtney Kardashian once said, "It takes the same amount of time to put on jeans as it does to put on yoga pants" and I tell myself that often, especially when I'm feeling like I want to lay around all day. But there's something about those yoga pants and leggings that's just calling, isn't there? So with that, my go-to momiform look for this fall is a pair of leggings, some sneakers (my rose quartz kicks* if I'm feeling fancy), an oversized sweater*, and a baseball cap (depending on how long it's been since my last hair-wash). Since I feel naked without earrings and pull on my lobes all day when I forget to wear them, I like to add some opal rose gold studs from JTV. The color is pretty much neutral so they match with everything.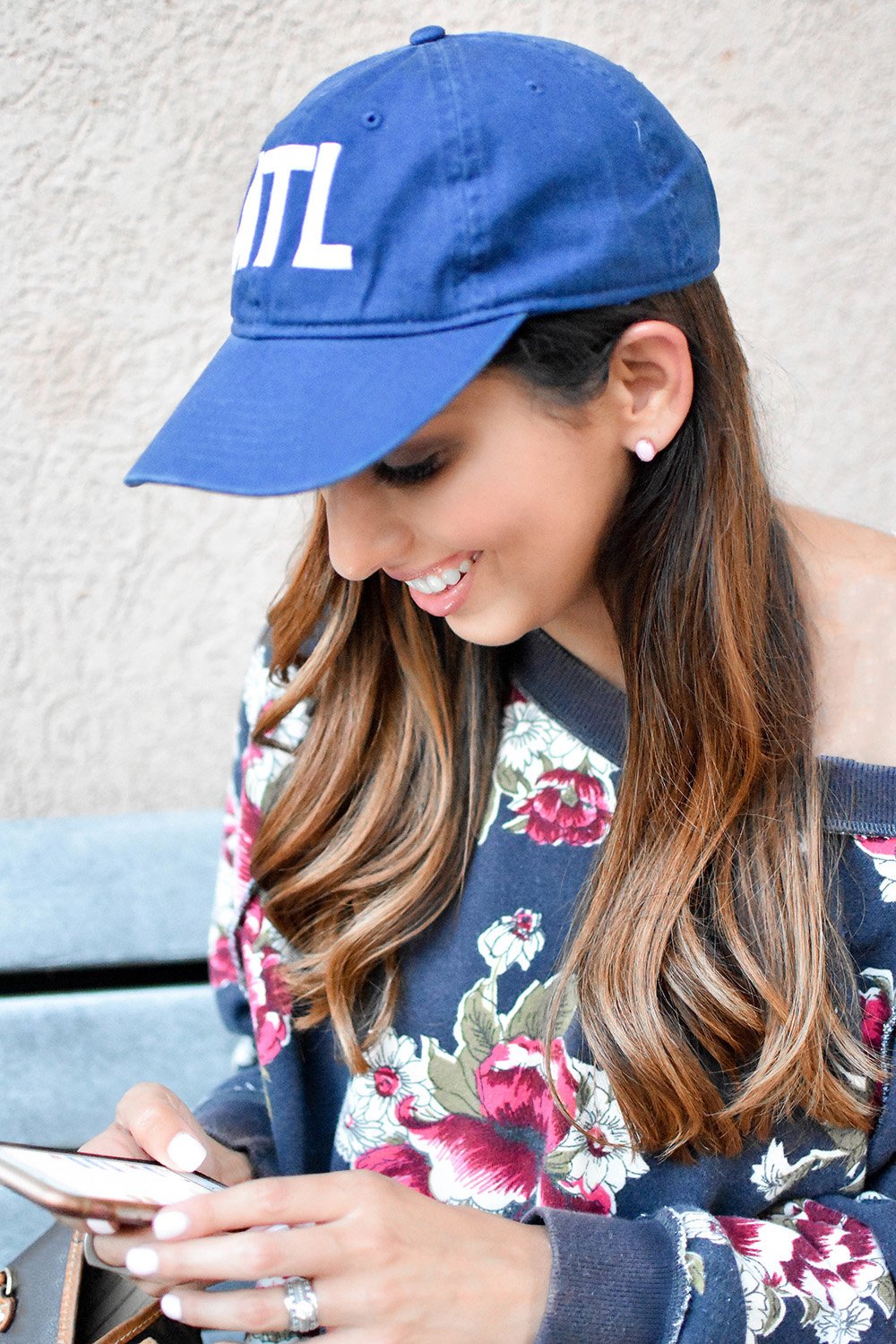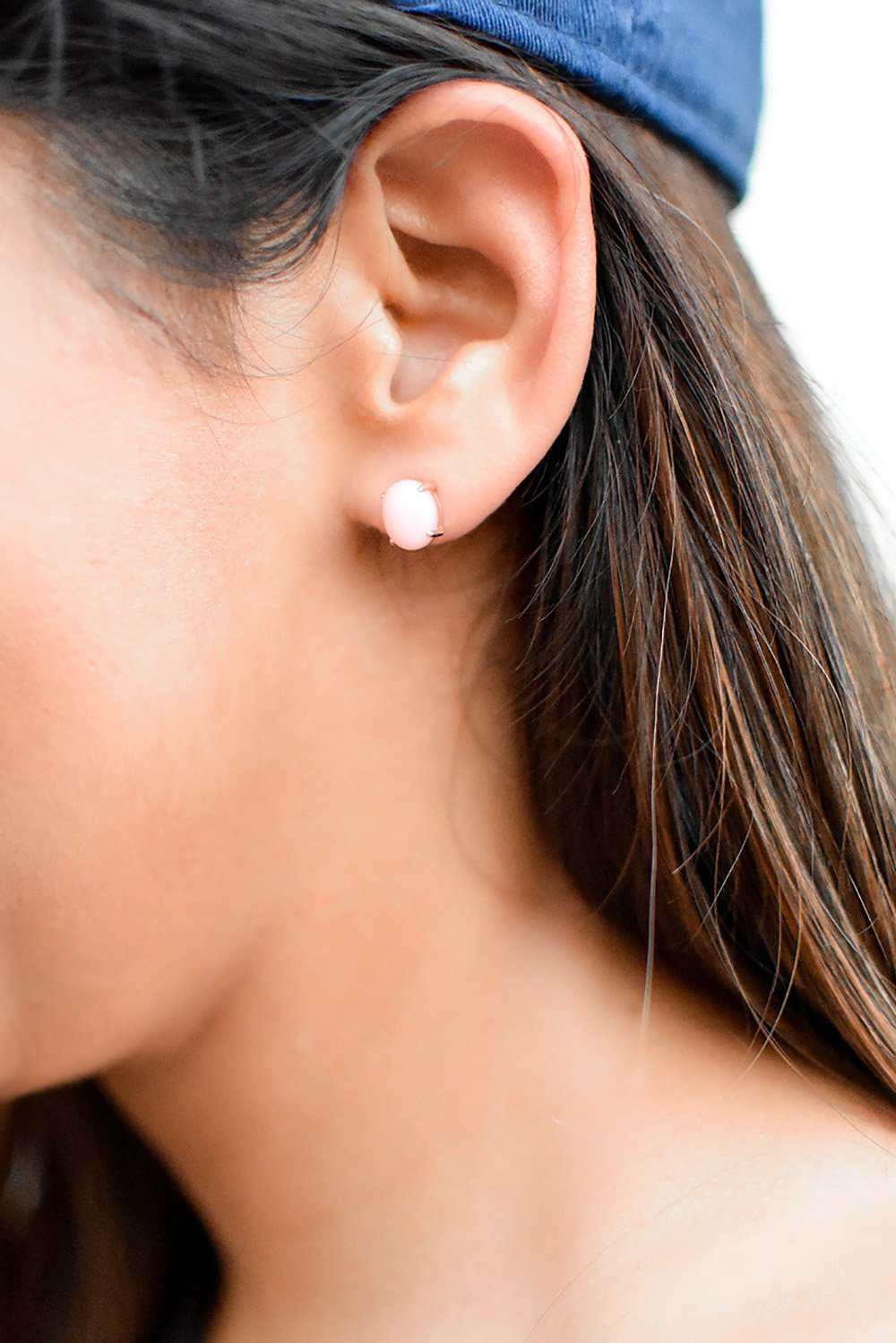 Shop my look (*affiliate links): Sweater* | Shoes* | Earrings
My second fall momiform also includes an oversized sweater but this time with some distressed skinny jeans and some super comfortable, already-broken-in ankle booties, with some rose gold earrings from JTV, of course. I love these dangle ones because they look fancy but are super delicate and not flashy; they don't overpower the simplicity of my outfit. This look literally takes the same amount of time to put on, is (almost) just as comfortable, and looks polished.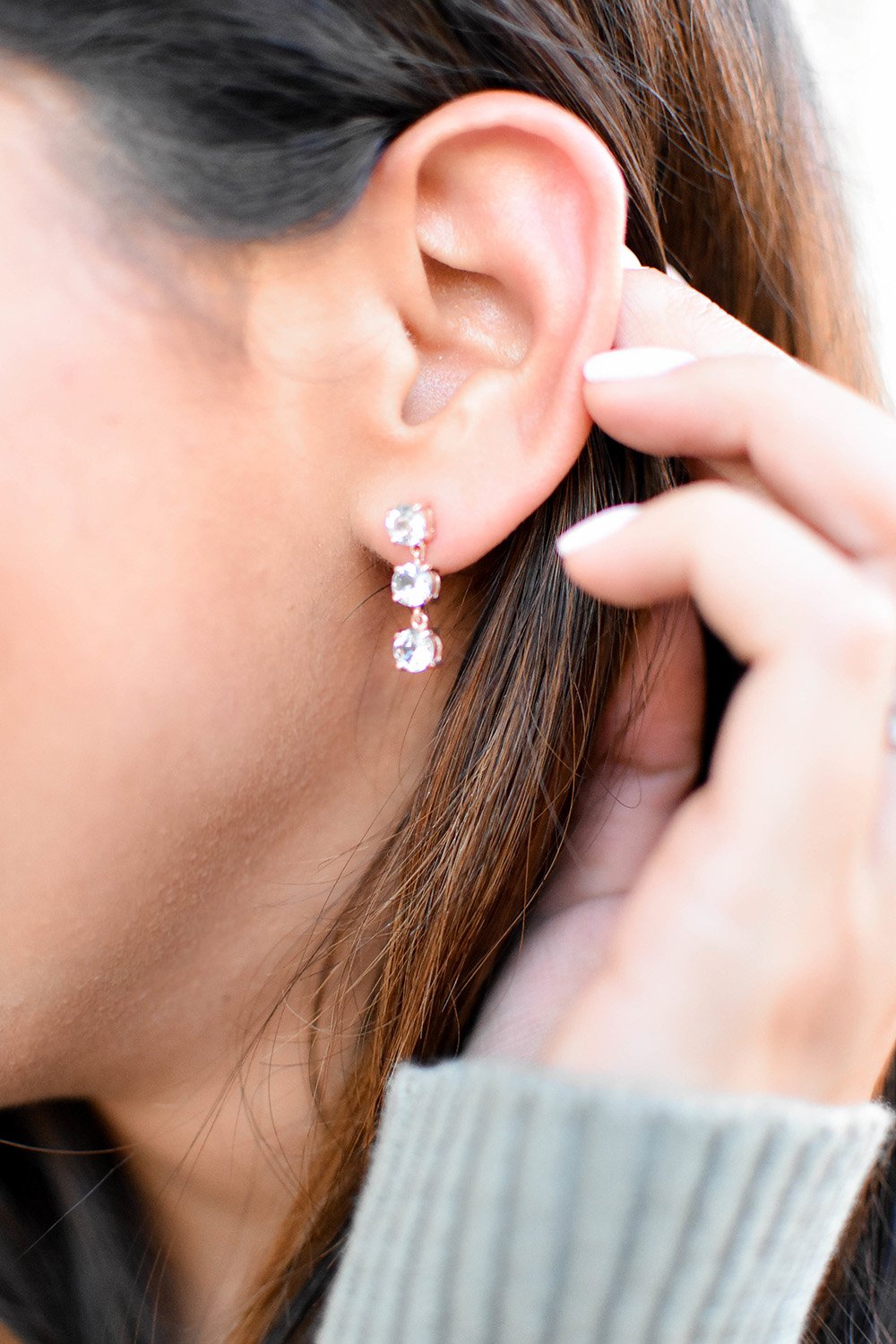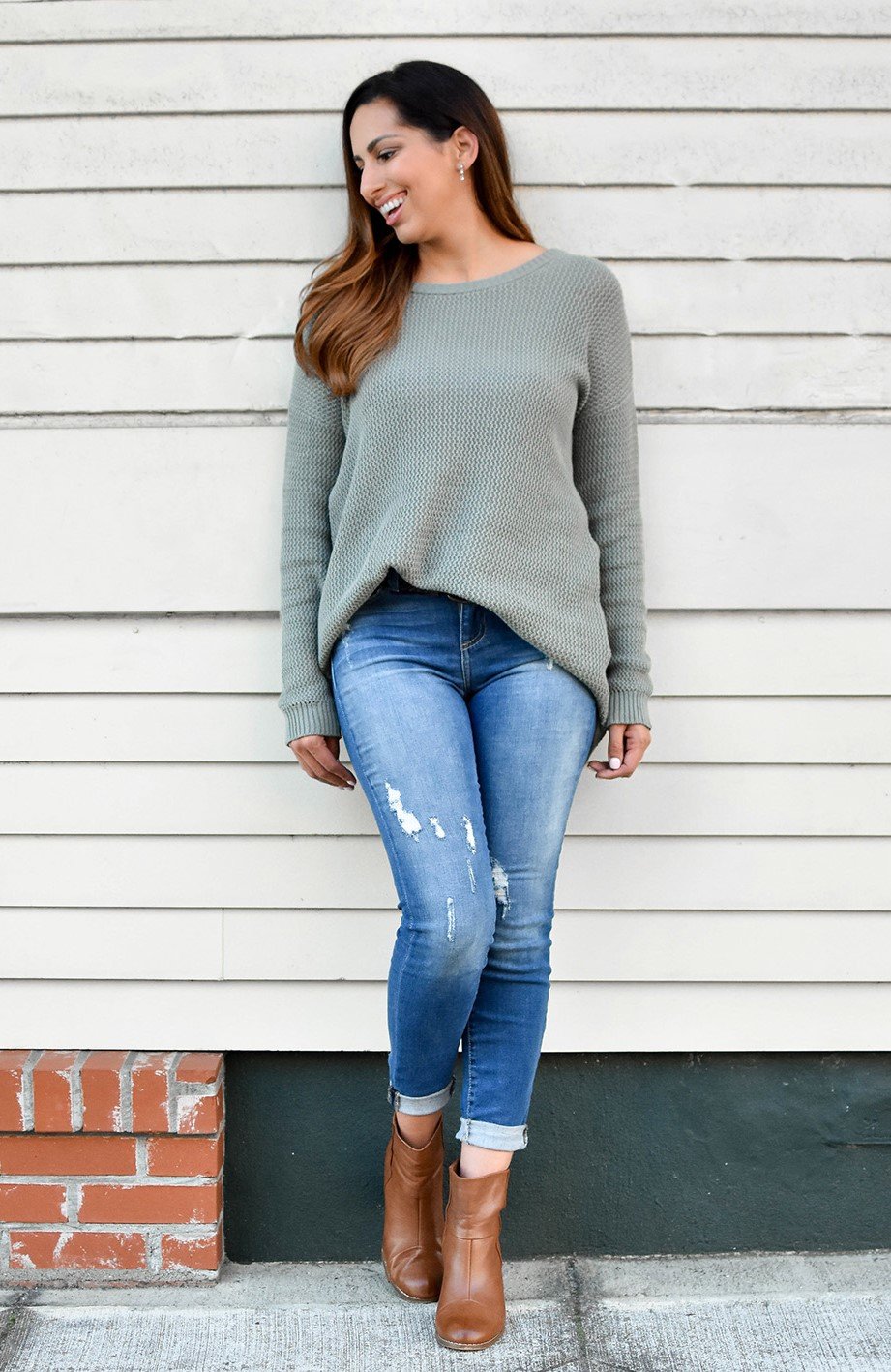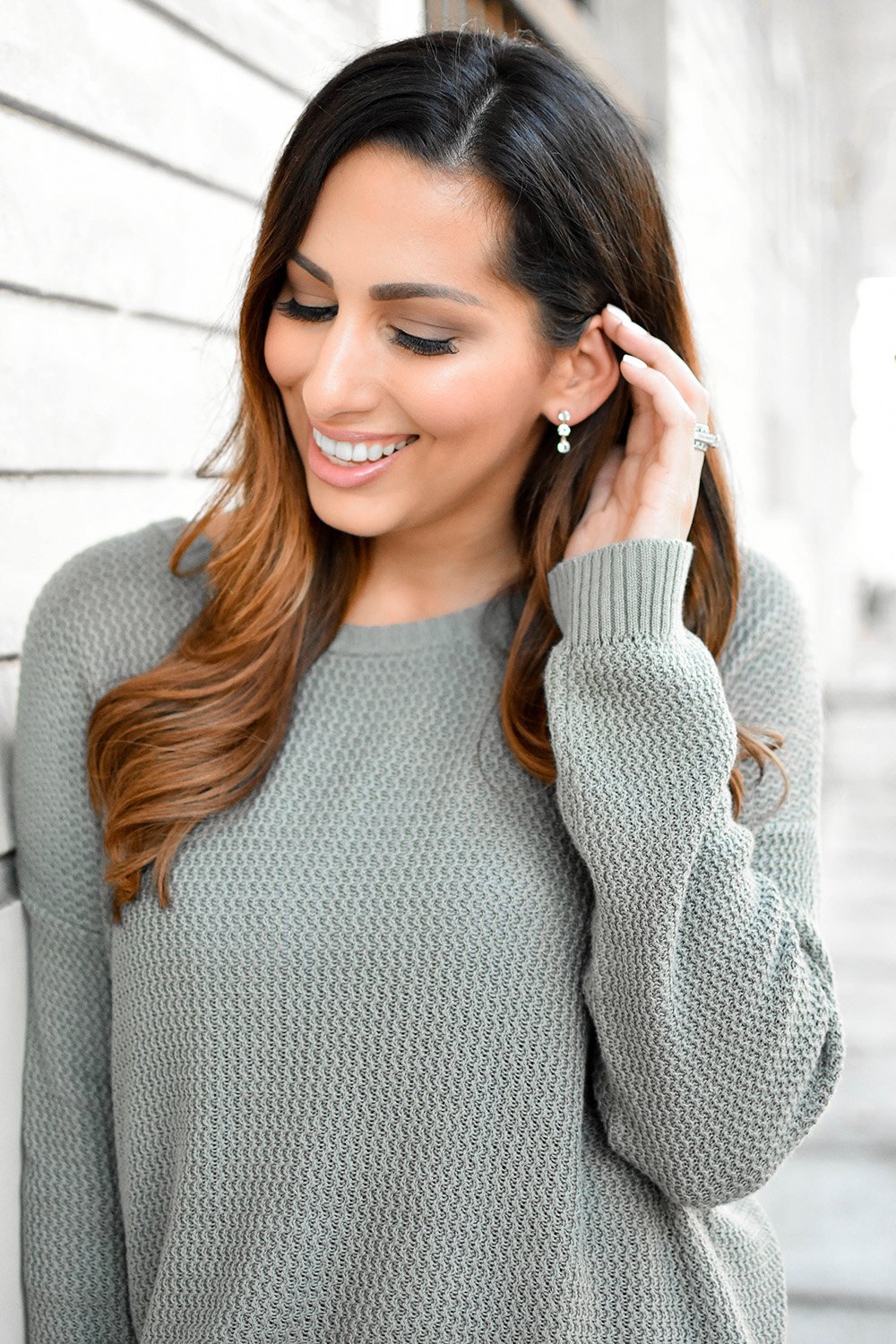 What does your momiform look like? Tell me in the comments below! And don't forget to check out JTV for some super cute rose gold jewelry!
[Thank you,
Morgan Hayes Photography
for these photos!]
My blog may contain links to other websites. I am not responsible for the privacy policies of those other websites. When you click on a link, your information may be collected by those websites, so I encourage you to read their privacy policies.
*Affiliate links are not associated with JTV.